Spring Down Drill Team
Spring Down Drill Team at the 2013 Coto Cup 2013
Watch the drill team in action in these two new videos! Then scroll down the page to learn more about our talented team.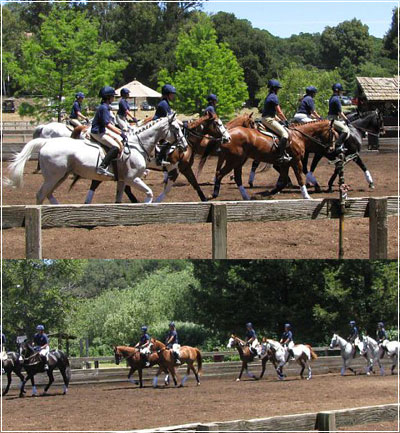 An Open Invitation
You are invited to Spring Down Equestrian Center to enjoy a performance of our drill team and a tour of the facilities.
"DRILLING IS THRILLING"
Simply speaking, a drill team is a group of riders working in unison to create a "dance" on horseback done to music with the arena as their dance floor!
Bring your group or organization on a fun trip to scenic and serene Portola Valley. "SPRING DOWN'S RHYTHM N'BLUES" will delight you with their magical drill team performance!
Refreshments will be served. Please contact the office to arrange a convenient Sunday from approximately 11:30am to 1:00pm. This fun day is offered to the public at absolutely "NO CHARGE".
Contact the office to learn more.