About the Owner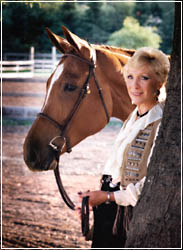 The riding atmosphere and teaching philosophy that set Spring Down apart are the product of Carol's lifelong love of animals, her dedication to and mastery of horse training, and her ambitious vision of what horses and humans have to teach each other.
Carol first started riding horses at summer camp at age seven. When she came back from camp she began taking lessons at San Francisco's Stanyon Street stable across from Golden Gate Park. As a teenager, Carol moved to St. Francis stable, also in San Francisco. While attending Lowell High School, she became the assistant riding manager for the after-school sport of horseback riding at St. Francis stable and assisted with the lesson instruction and horse show program for Lowell. During this period she rode dozens of horses and learned to understand their individual personalities. From this, Carol developed her own training philosophy - try to find the easiest way for the horse to understand what you want him to do and then try to accomplish this by riding the horse the way he wants to be ridden.
In 1967, Carol started attending horse shows for Region Six of the California State Horseman's Association, which extends from San Francisco to Morgan Hill and, eventually, for the entire State of California. She won the championship in her division for both Region Six and the State of California and was captain of the Championship Region Six team for several years. In 1972, Carol decided to change her status from amateur to professional and was ready to face the new challenges of establishing her own business.
As a result of her experience and devotion to teaching horsemanship, Carol has been the recipient of many awards, among which was Horsewoman of the Year presented to her by the San Mateo County Horsemen's Association.
Carol has also conducted English riding clinics and annually presents a very useful and popular Horse Safety Demonstration and Lecture that is open to the public as well as Spring Down customers.
In addition to her own clinics, Carol has advanced her own skills by attending seminars/clinics presented by such professionals as George Morris, Nick Karazissis, Linda Tellington-Jones and Monty Roberts (the Horse Whisperer).
The training philosophy she has put into practice at Spring Down is still to ride the horse the way he wants to be ridden. Carol is quick to point out that a good trainer must understand how horses think, make it easy for them to learn what you want to achieve, reward when they do it right and properly correct if they are doing something wrong. However, avoid having a battle because you could lose the war.
As Carol often tells her clients, "The horses are the teachers - I am simply their interpreter."