Horsemanship Camps
We offer one to two week long horsemanship camps in Spring, Winter, and Summer. Our complete program groups riders according to experience, but no experience is needed to participate. We teach riding, horsemanship and horse care under the care of our knowledgeable instructors and helpers in small, interactive groups. Minimum suggested age for our campers is 6 years old, and there really is no maximum age!
Campers will learn:
Basic horsemanship fundamentals (grooming, tack up and care)
Barn and horse safety, basic vaulting techniques
Horse psychology and why they do funny things
Proper mounting and dismounting
Riding instruction and proper position
Watch live demonstrations by the owner
Identifying different horse breeds and learn the parts of a horse
Learn all about taking care of your own horse
Walk/trot and walk/trot/canter groups available for those riders with more experience
Hours for Winter, Spring and Summer camps are Monday to Friday 9:00am to 1:00pm.
Extended day care is available. There are also daily arts and crafts projects (horse related, of course!)
Winter, Spring and Summer Camps Overview:
Spend an intensive and fun one or two week session with one of our 40 well trained school horses! Learn how to ride or improve your horsemanship skills during our program. Riders are grouped according to experience, but no experience is needed to attend our camps. Our knowledgeable instructors and helpers will teach you all about horses working in small, interactive groups to give you hands on experience with your horse.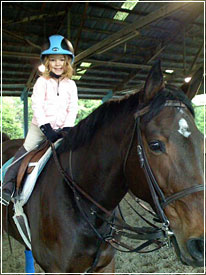 You will spend lots of time working around the horses and understanding how they think and feel. Bring a friend to learn about our wonderful world of horses!

Holiday Camp 2017
$525 for one session or $950 for both sessions
Download the Holiday Camp 2017 application (PDF document)
Note: Separate checks, whether deposit, or payment in full, are required for each camp session.
Camp hours: 9am to 1pm


Dates:
December 18th - 22nd
December 26th - 29th
We want to hear from you!
Have you participated in a Spring Down camp and have some feedback you want to share? Please tell us what you think by contacting the office...